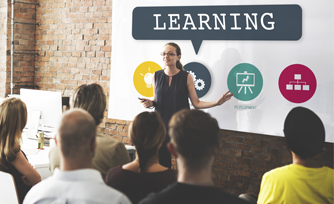 26 Sep

Lifelong Learning: Help Businesses Thrive and Keep Employees Engaged

How a learning-conducive environment at the workplace can help businesses magnetize and nurture talent in today's world.

Across various industries today, most companies are facing an acute skills shortage. This is a critical concern for companies in the present day and age; where finding and harnessing the right talent is crucial to the success of a business.

Consider these stats…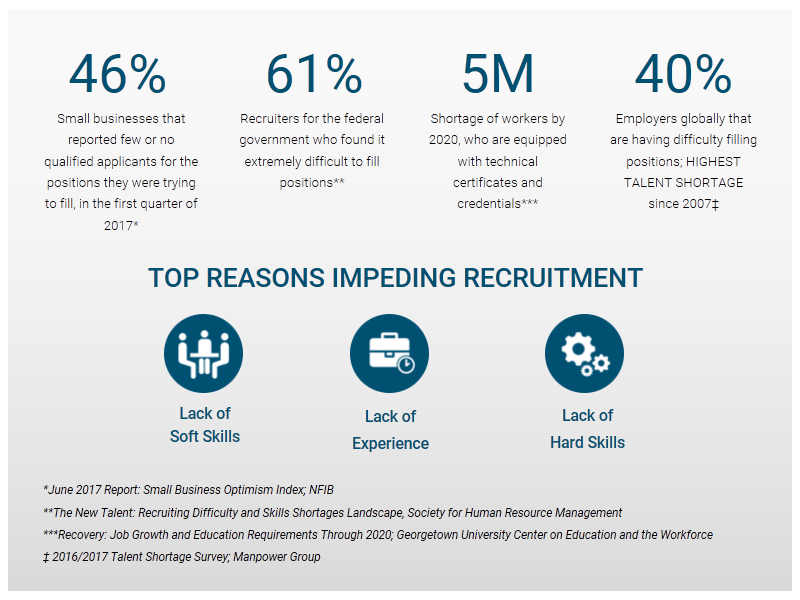 It is apparent that businesses and government organizations are in stark need of the right talent, but are not able to find qualified applicants. Provided this scenario, can organizations afford to wait or slow down their work to search for the right talent, given today's volatile and ever-changing global economy? The short answer is NO. How do we then recruit and retain skilled workers to meet ever-changing business objectives?
The answer lies in training and development. Specifically referring to investing in building a learning environment in the organization that supports the on-boarding of skilled workers who meet the business needs in the short-term (talent recruitment) and can take on new responsibilities in the long term (talent retention/enrichment).
Apprenticeship Programs
The best approach to fulfill skilled talent needs is through Apprenticeships. An Apprenticeship program – the traditional worker-training model that blends on-the-job training with classroom instruction – is a time-tested approach to training and developing skilled labor. A well-planned Apprenticeship program supports an organization in multiple ways: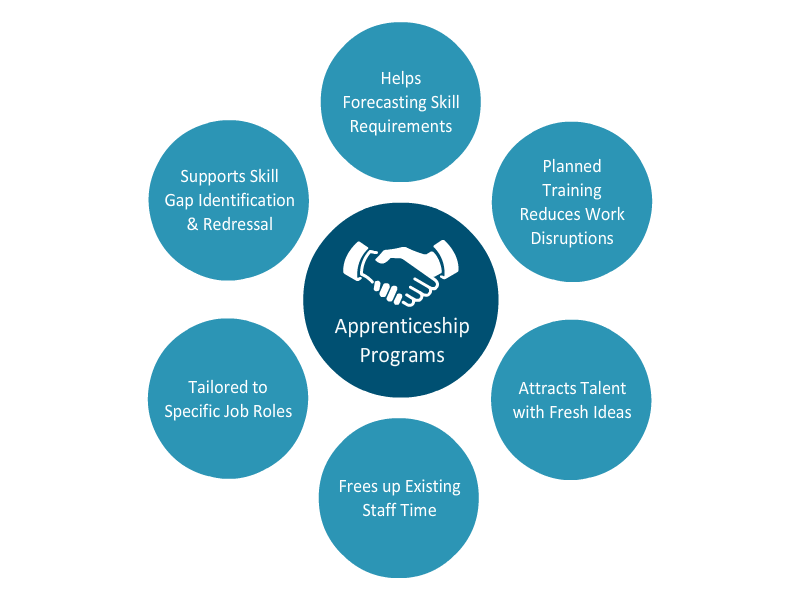 Apprenticeship programs can help considerably in reorganizing and enriching existing workforce development programs to make training more efficient and effective. Irrespective of the sector the business is in, there are multiple benefits that apprentices can bring to a business.
Apprentices are less likely to leave and join a competitor, as they are loyal to the companies that continually invest in them. Apprenticeship programs provide ample opportunities for companies to organically acquire and hone the talent they want. As a consequence, poaching outside talent – typically a more costly endeavor – is rendered unnecessary.
Growth is not just dependent on recruitment, but also on retaining a trained and skilled workforce. How does a company do this effectively?
Continuing Professional Development (CPD) Programs
It is a known fact that professional knowledge and skills will never remain static. This fact is further accentuated in today's Knowledge Economy, where new ideas and skills are the driving factors behind many successful business stories.
Apprentices that were trained to fulfill a specific requirement would eventually need to learn new skills to address changing business needs and remain competitive in the workplace. This makes continuous learning and up-skilling critical to an organization's sustainability.
Having the right learning and development opportunities available to workers can have a transformative impact on an organization, allowing it to expand its capabilities and grow organically. An established CPD program in an organization has to accomplish the following core objectives:
Consistently maintain high quality.
Improve efficiency and productivity throughout the organization.
Support a proactive and positive reaction towards evolving trends and shifts in the industry.
Motivate employees and make them feel valued; and in in turn, improve employee retention.
Encourage sharing of expertise across the organization.
In sum, these programs help the development of a positive learning culture across the organization, not just in a formal manner, but informally as well.  Helping employees learn from each other helps the business grow and flourish. On the contrast, ignoring this investment can place a business at risk of losing its edge in the marketplace and lagging behind its competitors.
Creating a Lifelong Learning Environment
Lifelong learning and workforce productivity have a proven linkage and are now recognized as the core components of business strategy for large and small corporations across the world. Effective Apprenticeship and CPD programs can be developed with multifarious learning delivery mechanisms – peer and mentor systems, discussions, self-study and practical experience.
However, an ill-advised choice of a delivery mechanism can do more harm than good to a learning program, and subsequently to the business. For example, choosing a classroom training program for something more suitable to a structured digital learning environment can impact knowledge retention and jeopardize the key program goals. On the other hand, choosing digital delivery of training for knowledge that is best transferred face-to-face can make employees disenchanted about the training that they are receiving.
Aptara recommends the 70:20:10 training approach, which can aid businesses in developing highly effective Apprenticeship and CPD programs that are aligned to the organization's business goals and customized to specific business needs.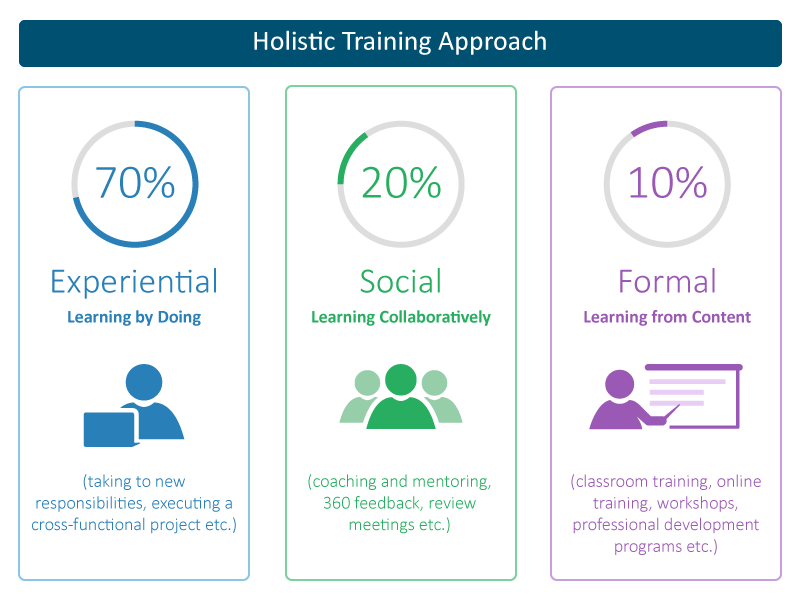 The 70:20:10 approach looks at training in a holistic way, where there are planned formal training sessions at regular intervals in the form of classroom instruction, coupled with self-paced learning using proven digital learning strategies. Informal training is a continual process and administered through learning on the job coupled with coaching/mentoring techniques.
A Final Note 
Implementing and nurturing a lifelong learning culture can pose challenges, but certainly carries immense long-term benefits for the organization and its employees. By adopting a robust training approach to organizational learning, companies can enable employees to thrive in their professional careers. This strategy will also assist organizations witness sustained success in the long-run.
Training Managers and HR Professionals of all hues have embraced blended and digital learning programs, allowing them to open up a world of career development to even the most far-flung employees whilst helping their organization achieve key business goals.
The present day economy is evolving at an overtly rapid pace for organizations to ignore employees' desire for self-fulfillment, upskilling and advancement. It's never too late to start building lifelong learning into the organization's goals and Aptara can help organizations in supporting such endeavors. As the world leader in the digital content transformation realm, Aptara can support the development of a broad array of learning delivery mechanisms including classroom learning, digital learning and blended learning formats, for a wide variety of industries and domains.
Learn more about Aptara's services here.