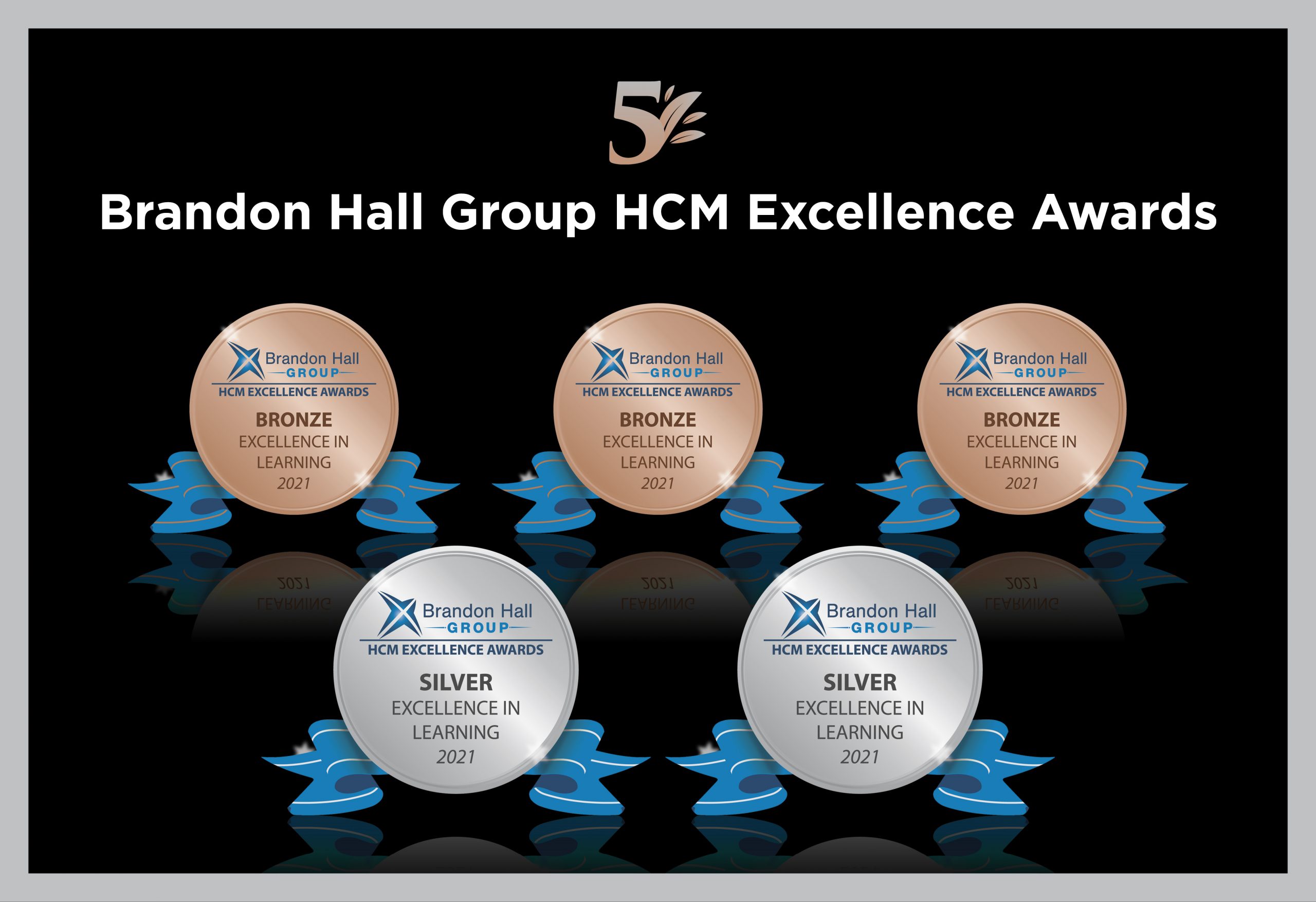 2 Silver and 3 Bronze Awards for Aptara at Brandon Hall Group's HCM Awards, 2021
Falls Church, VA | August 26, 2021
We are ecstatic to announce that Aptara, as a co-applicant with our esteemed clients, won 5 coveted Brandon Hall Group Awards – 2 Silver and 3 Bronze – for excellence in multiple categories. Aptara's wins were announced on August 19, 2021, via a live webinar of a multitude of attendees to witness the announcements.
A leader in innovative and custom digital content development, Aptara won awards in the following categories:
Brandon Hall Silver Awards
Best Use of a Blended Learning Program
Best Unique or Innovative Learning and Development Program
Brandon Hall Bronze Awards
Best Advance in Competencies and Skill Development
Best Advance in Machine Learning and AI
Best Use of Video
Entries were evaluated by a panel of veteran, independent senior industry experts, Brandon Hall Group analysts, and executives based upon these criteria:
Fit the need
Design of the program
Functionality
Innovation, and
Overall measurable benefits
"Brandon Hall Group Excellence Awards in 2021 provide much-needed and well-deserved recognition to organizations that went above and beyond to support their stakeholders during the unprecedented disruption of the COVID-19 pandemic," said Brandon Hall Group COO and leader of the HCM Excellence Awards Program Rachel Cooke. "The awards provide validation of best practices in all areas of HCM at a time when they have never been more important to employers, employees, and customers."
The most important feature of our services is that we focus on learner-centric and innovative solutions. Being awarded in five categories among some reputed names in the business only goes to show that we do what we do with commitment and passion.
---
About Brandon Hall Group
Brandon Hall Group operates the largest and longest-running awards program in Human Capital Management. As an independent HCM research and analyst firm, they conduct studies in Learning and Development, Talent Management, Leadership Development, Diversity, Equity & Inclusion, Talent Acquisition, and HR/Workforce Management. These benchmark studies help organizations by providing strategic insights for executives and practitioners responsible for growth and business results. Coupling the research studies with the best practice from the awards, Brandon Hall Group has helped more than 10,000 clients globally with more than 28 years of delivering world-class research and advisory.
About Aptara
Aptara provides transformational Learning & Performance solutions to the world's largest corporations. An award-winning market leader in custom eLearning solutions that leverages new media, we help Fortune 500 companies and other organizations significantly improve training outcomes. Founded in 1988, Aptara is a U.S.-based company harnessing the rapid emergence of digital media to provide its clients a competitive learning advantage. Aptara's solutions uncover new revenue streams, improve operations, and realize cost savings enterprise-wide.