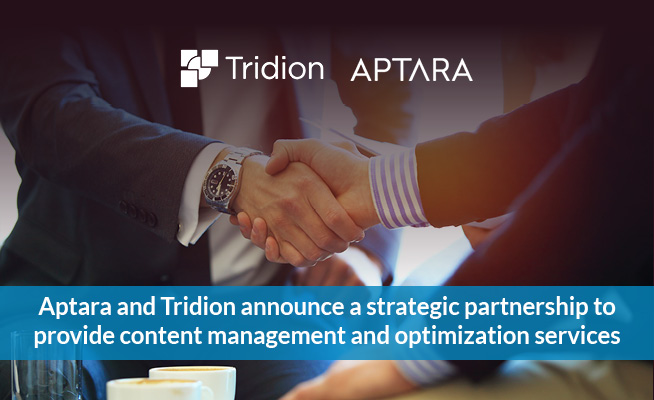 Aptara and Tridion announce a strategic partnership to provide content management and optimization services
Companies will complement each other's capabilities and strengths
Falls Church, VA, February, 2023 – Aptara, an industry leader in content and data enrichment and optimization, and Tridion, recognized leaders in structured and web content management technology, have entered into a partnership that will broaden the range of content solutions they can offer their clients. Together, Aptara and RWS provide an end-to-end solution for the creation, organization, retrieval, reuse, and delivery of content and data across the enterprise.
"This partnership is a natural fit, because we serve many of the same industries, like healthcare, life sciences, and financial services," said Samir Kakar, President of Aptara. "Aptara excels at transforming and optimizing content, and RWS's powerful Tridion platforms, along with its AI-driven language and localization services, provide the essential architecture for the content supply chain."
"Aptara's has a proven track record in helping companies to generate significant ROI from their content," explains Alex Abey, General Manager of Tridion. "We're excited by this partnership and look forward to working closely with Aptara to ensure clients have the content infrastructure in place to support their growth ambitions."
Tridion is RWS's content management system that intelligently connects people, processes, and information through collaborative content management and knowledge management. With a few clicks companies can launch a highly engaging digital experience – across any connected device and language.
---
About RWS
RWS Holdings plc is a unique, world-leading provider of technology-enabled language, content and intellectual property services. Through content transformation and multilingual data analysis, our unique combination of technology and cultural expertise helps our clients to grow by ensuring they are understood anywhere, in any language.
Our purpose is unlocking global understanding. By combining cultural understanding, client understanding and technical understanding, our services and technology assist our clients to acquire and retain customers, deliver engaging user experiences, maintain compliance and gain actionable insights into their data and content.
Clients include 90 of the world's top 100 brands, the top 20 pharmaceutical companies and 19 of the top 20 patent filers. Our client base spans Europe, Asia Pacific and North and South America. We work in the automotive, chemical, financial, legal, medical, pharmaceutical, technology and telecommunications sectors, which we serve from 80+ global locations across five continents.
Founded in 1958, RWS is headquartered in the UK and publicly listed on AIM, the London Stock Exchange regulated market (RWS.L).
For further information, please visit: www.rws.com.
About Aptara
Aptara enriches content for capitalizing on all digital mediums. Providing full content lifecycle production – from content creation and design, to new media enhancements, content technology solutions, and production for all mobile devices and platforms – Aptara develops innovative digital products that deliver content how, when, and where recipients want it. Serving the 10 largest publishers in the world, Aptara is a US-based company founded in 1988. Our over 4,000 professionals are deployed globally to help content providers create, enrich, publish, monetize, and manage their assets in the digital age.