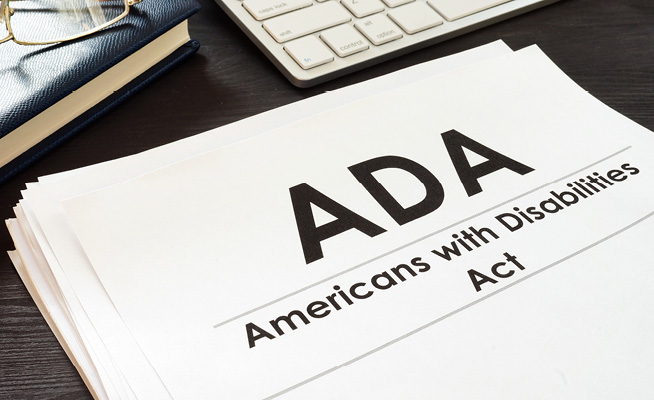 The Scope and Future of ADA Compliance
There is no greater disability in society than the inability to see a person as more."
– Robert M. Hensel
One nation, 50 states, and a population of about 333 million people; the goal – to make sure every single person is treated as an equal. The Federal Civil Rights legislation of the United States states that it is illegal to discriminate against specially-abled people in employment, state, and local government services, private businesses, telecommunications, and transportation and assures that they have equal opportunity to participate in mainstream American life.
The Americans with Disabilities Act (ADA), 1990 was passed to ensure the full inclusion of people with disabilities in all aspects of American society.
Subsequently, the Department of Justice (DOJ) published the Americans with Disabilities Act (ADA) Standards for Accessible Design in September 2010. The Access Board is responsible for developing and updating design guidelines known as the ADA Accessibility Guidelines (ADAAG). These standards state that all electronic and information technology, i.e. designing websites, software, hardware, video and multimedia, and telecommunications, must be accessible to people with disabilities.
Digital accessibility is in the spotlight for virtually every business. According to a recent report by the World Health Organization (WHO), over 2 billion people, globally, live with a disability, 20% of whom live with great functional difficulties in their day-to-day lives. With the increase in the need for digital accessibility, the ADA Enforcement Agency encourages organizations to use the compliance guidelines as a guide on how to become accessible. As one of the leading companies in custom content development, this plays a massive role in DE&I, i.e. Diversity, Equity, and Inclusion of the American people.
Aptara's team of accessibility experts has been in the practice for over 7 years now, providing services in a 24/7 environment. We ensure complete compliance adherence and follow the guidelines of WCAG 2.0/WCAG 2.1 standards alongside best practices and guidelines of PDF U/A (PDF Universal Accessibility) standard as per the Matterhorn protocol. We also provide accessibility services for MS Office documents such as MS Word, MS Excel, MS PowerPoint, and HTML for various lines of businesses like Financial Services, Health Care, and Education Services. During accessibility checks, we test our 32-point validation process comprised of 136 failure conditions against which Aptara checks all PDF documents to ensure 100% compliance. Aptara takes content from any format or source and converts, translates, typesets, designs, and makes it fully accessible/ADA compliant. Additionally, we have a pool of experts to convert various documents into a large print format for better accessibility.
The First Step
The early adaptors of ADA compliance came from the field of health care and insurance. Aptara initiated its journey on the path to ADA accessibility for clients globally in the field of health care. We enable our partners to provide digitally accessible documents and files to their end customers, thus helping people challenged by disabilities to leverage the best resources of American life.
A large translation company that aims at bridging the cultural gaps in language translations required to aid one of their clients – a big player in the health care industry – in terms of repurposing content according to ADA of the Rehabilitation Act Compliance. Aptara's content technologists and compliance experts designed and implemented a seven-step workflow for efficiently creating multilingual ADA compliant documents. Click here to read how we assisted them in this challenge.
The Shift
The trend of ADA compliance then gradually shifted toward financial documentation. From what started in the field of health care, Aptara advanced its ADA accessibility services to the financial sector. We specialize in processing various financial documents like Annual/Semi-Annual reports, MRFP, Financial Highlights, SAI (Statement of Additional Information) Prospectus, a summary of the Prospectus, etc. We also perform ADA tagging on client-supplied PDFs produced on their various document processing applications, transforming them into fully tagged and accessibility compliant PDFs according to WCAG 2.0 and PDF/UA standards. The volume of these financial documents has considerably increased over the years since the mandate of the ADA law.
The Future
The primarily important fields of health care and finance have been touched upon by ADA compliance, what is next? According to recent WHO statistics, only 17% of those who could benefit from a hearing aid use one. Further, 1.1 billion individuals ages 12-35 are at risk of disabling hearing loss due to exposure to noisy environments. It's estimated that by 2050, the number of people with disabling hearing loss will have nearly doubled to 900 million people. Let's put into perspective that these are only hearing disability figures.
Aptara sees the future of ADA accessibility flourishing in various other fields. Industries like automobile, fashion, advertisement, media, etc. are ever-growing industries that will, eventually, need to be ADA accessible. Collateral like brochures, magazines, and even user manuals will be needed to be ADA compliant for a perfect end-user experience.
Going Global
As a country, the United States is on the road to integrate ADA compliance across various fields and businesses. The next trajectory on the ADA front is businesses making information accessible to all, globally, by adopting and executing accessibility compliance for a better, brighter, and more inclusive world.
What are your views on ADA accessibility? Tell us in the comments section below or write to us at moreinfo@aptaracorp.com.