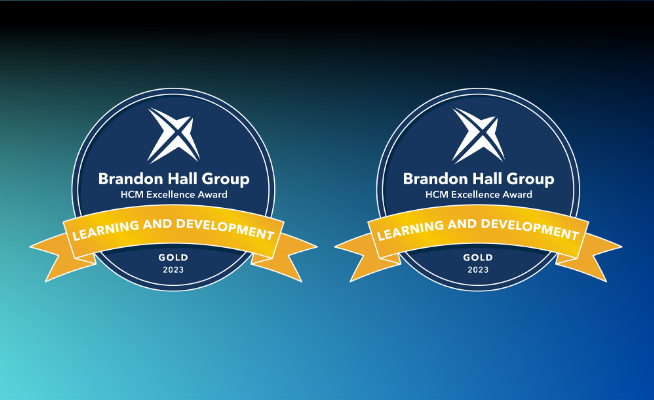 Aptara's Innovations Recognized with 2 Brandon Hall Group Gold Awards
Chantilly, VA –
Aptara, a pioneer in transformative Learning & Performance solutions, has achieved a remarkable feat by securing prestigious gold awards from the Brandon Hall Group. The accolades celebrate Aptara's excellence in the following categories of awards.
Best Use of Virtual Worlds for Learning
Future of Work
"We're honored to be acknowledged for our commitment to employee development," expressed Mike Stacy, Global Enterprise President at Aptara. "These awards underscore our dedication to crafting impactful human capital management programs."
The Brandon Hall Group's rigorous evaluation process considers criteria such as alignment with business needs, program design, user experience, innovation, and overall effectiveness. "Excellence Award winners showcase remarkable dedication to both their employees and business goals," commented Rachel Cooke, COO of Brandon Hall Group.
Winners of the Excellence Awards, including Aptara, will be celebrated at the upcoming HCM Excellence Conference taking place from February 13-15, 2023, at the Hilton West Palm Beach, Florida. They will also be prominently featured as presenters, sharing their best practices during the event.
"We've witnessed the most innovative use of HCM strategies in decades, leading to remarkable business achievements," said Mike Cooke, CEO of Brandon Hall Group. The awards not only commend the winners' accomplishments but also highlight their collaborative and technological efforts.
---
About Brandon Hall Group
As a leading source of data, research, insights, and certification for Learning and Talent executives, Brandon Hall Group empowers organizations to create future-proof employee development strategies. The HCM Excellence Awards, often regarded as the "Academy Awards of Human Capital Management," honor organizations that have achieved measurable success through innovative programs, strategies, and tools
About Aptara
Aptara enriches content for capitalizing on all digital mediums. Providing full content lifecycle production – from content creation and design to new media enhancements, content technology solutions, and production for all mobile devices and platforms – Aptara develops innovative digital products that deliver content how, when, and where recipients want it. Serving the 10 largest publishers in the world and Fortune 1000.  Aptara is a US-based company founded in 1988 with over 5,000 professionals deployed globally.