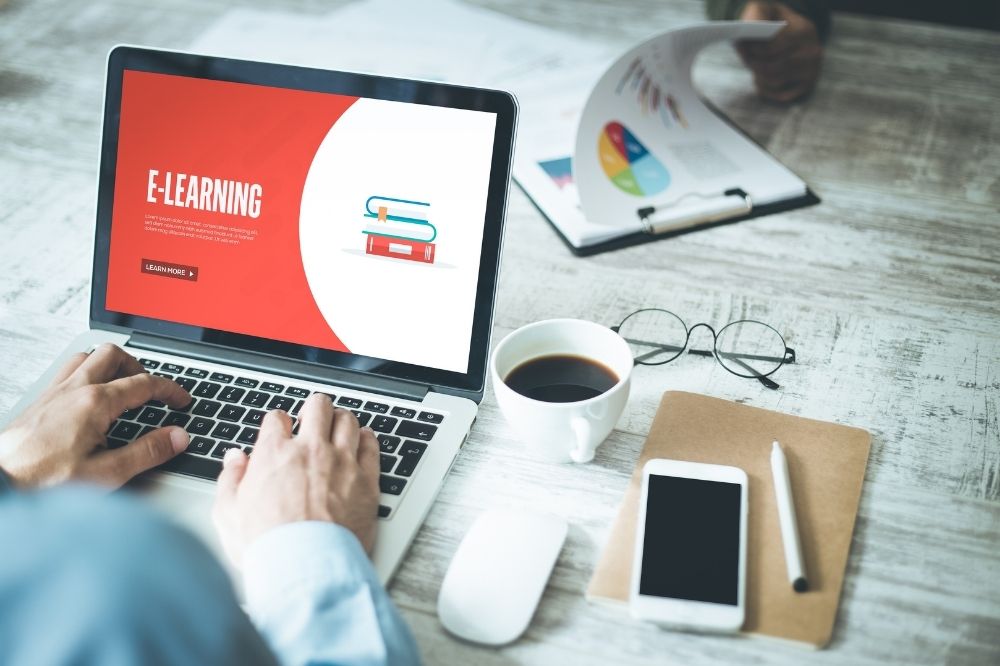 What is Scenario-based Learning and how does it help?
To define – SBL (Scenario-based Learning) is a prominent instructional approach that is used widely for online training purposes. The process of scenario-based learning employs an "active learning" strategy. It gives the learners a realistic and highly relevant learning experience by leveraging the real-life scenarios included in the scenario-based learning process. These processes help with a high engagement rate because of their immersive approach.
Scenario-based Learning (SBL) is an immersive training environment in which learners face actual job obstacles and receive realistic feedback as they progress. These processes make it possible for the learner to make real-life decisions in formal and informal settings with ease. Scenario-based learning, in essence, uses real-life events to encourage active learning, understanding, and application of the lessons learned.
Unlike many e-courses, where learners are expected to learn by simply learning the knowledge by reading a text and then taking a test, learners in scenario-based training are expected to actively participate in the process from the initiation to the finish of the process.
These processes can also be implemented with the help of apps and scenario-based learning software. The varied types of scenario-based learning are a great example of how a singular aspect such as dialogue can produce an immersive experience that may be used to learn.
Here are some examples of Scenario-based Learning
Real-World Safety Scenarios
Scenario-based learning is a good technique to teach staff about basic safety measures and hence scenario-based safety training helps them relate to the situation and learn safety measures easily with practical situations.
Such comprehensive courses discuss the significance of workplace safety, as well as how to assure safety by utilizing the proper equipment, according to safety laws, and having a proper strategy to perform a task, among other topics.
Real-life situations are used to demonstrate many elements of safety, such as the proper use of safety equipment, the need of having all of the necessary systems and tools in place, and other relevant topics. All areas of safety are discussed in detail using unique and entertaining scenarios based on real-world conditions and their past experiences.
Skill Training
The scenarios for skill training may be used effectively to deliver customized skill training to the professionals. Learners will have more fun and engaging experiences as a result of the interesting scenarios, making the training content more engaging, memorable, immersive, and applicable.
The course structure for skill training usually comprises a variety of exercises and gamification aspects in addition to situations. Certain courses have scenarios that are created by using actual people, animated people, graphics, and photographs to simulate real-life business settings and allow the learners' to make the right decision.
Audio-driven Scenarios with Gaming Elements
Scenario-based learning is more impactful when mixed with gamification components, which is especially useful when firms want to improve their sales team's performance and productivity. Adding gaming features to sales simulation scenarios allows salespeople to practice and enhance their abilities in a safe and supportive setting. These benefits can also be extended to other walks of life.
This is how the technique works –
A scenario that is audio-driven may imitate the surroundings in which the learners participate and make decisions. This further comes in with benefits such as being low-cost and high-engagement.
Because the scenario necessitates a first-person perspective, the student is fully engaged in the content of the course, resulting in a more holistic learning experience.
Gaming aspects also give a sense of urgency and competition, simulating fast-paced, goal-oriented business situations.
Benefits of Scenario-based Learning
Better Engagement
Scenario-based training is more engaging because it immerses learners in real-world scenarios with the learning approach. At the same time, it creates a safe environment in which mistakes are accepted as part of the learning process and do not discourage students.
This creates a safe environment for them and allows them to be fluid in their approach.
Better Retention
Learners in scenario-based training are encouraged to utilize and engage all of their senses, analyze, and make decisions rather than merely passively receiving knowledge and reproducing it.
All of these factors boost participation, which is crucial during sessions such as compliance training.
Safe Learning Environment
Learners may apply what they've learned in a simulated, yet safe training environment via scenario-based learning. If you're like the majority of students, you learn by doing and by immersing yourself in real-life situations.
It can be used to assess a learner's fundamental understanding of the training material or to confirm their decision-making process in a real-world situation.
Key Takeaways
Scenario-based learning aids in the acquisition of skills and the better management of comparable circumstances. It aids in the reinforcement of information and the improvement of retention thereby improving the overall performance of the learner. The above-mentioned scenario-based learning templates help in the development of abilities such as critical thinking and decision-making.